Posts
https://www.discotech.me/wp-content/uploads/2018/05/scaled.The_Hangover_2_t1000.jpg
666
1000
alviedisco
https://www.discotech.me/wp-content/uploads/2020/03/Discotech-Black-Logo-300x138.png
alviedisco
2020-04-19 15:00:35
2020-05-18 22:31:50
The ULTIMATE Las Vegas Bachelor Party Guide
There is something to be said about the Bay Area's hip hop presence. Sure- it isn't the ATL or Chicago. San Francisco might not have "hip hop soul" but it does know a thing or two about pleasing everyone. And in the words of Tupac- "California, knows how to party." Hip-hop has a definite presence in SF. Here is a list of the hottest clubs in the city for the people who would take some solid lyrics and a beat over a synthesizer. So if you're more of a twerker than a first bumper, read on to find out the best hip-hop nightclubs in San Francisco.
Arena SF
Mission statement: "I DO IT FOR THE RATCHETS". Imported straight from Ktown LA, this new Mission hotspot is bumping Thursdays – Saturday nights. No cover at Arena SF – but the line can definitely get long. Bottle service is recommended – and prices are quite reasonable. Bottle service tends to sell out here so we recommend reserving a couple days in advance!
The Grand
Between Latino Fridays and Freestyle Saturdays, you are all set at The Grand. A large Vegas-inspired nightclub, The Grand takes the cake for the big and bold when it comes to hip-hop clubs in the city. It isn't too far from AT&T Park and close enough to Uber quickly to one of the other SoMa hip-hop hotspots. Sign up for free guestlist or book tables at the Grand using the Discotech app!
Holy Cow
Holy Cow is a total retro Los Angeles feel club. Polished oaky wooden tables and thin industrial-feel rails perfect for holding on to while you drop it low characterize this Folsom street club's renovation. Just a heads up- Holy Cow is said to be overpriced, but sometimes you can't expect to put a price tag on a wild night out. Guestlist and table service available on the app.
The ROC
If being surrounded by families and tourists on the Alcatraz tour just won't cut it (we don't blame you), head over to The ROC. This Alcatraz-themed bar and club brings the naughty to Fisherman's Wharf. Expect a line out of the door on their most popular event, The ROC Fridays, drawing in tourists and locals alike who want to enjoy hip-hop music blaring from their state-of-the-art sound system. Browse upcoming events on the Discotech app!
Origin SF
You may not have known, but the owners of The Grand have brought another gift to San Francisco's hip-hop scene, and it's name is Origin. If you love the aesthetic of a stylish lounge and you don't want to go all the way to SoMa for a nightlife experience, this Western Addition/ Fillmore venue is spot on. The decor is trendy, much like the boutique hotels of SF, which could be why they often refer to Origin as a "boutique nightclub." They host fun talent and bump hip-hop, top 40 and EDM. RSVP to get on the guest list or book bottle service at Origin SF using the Discotech app!
LUV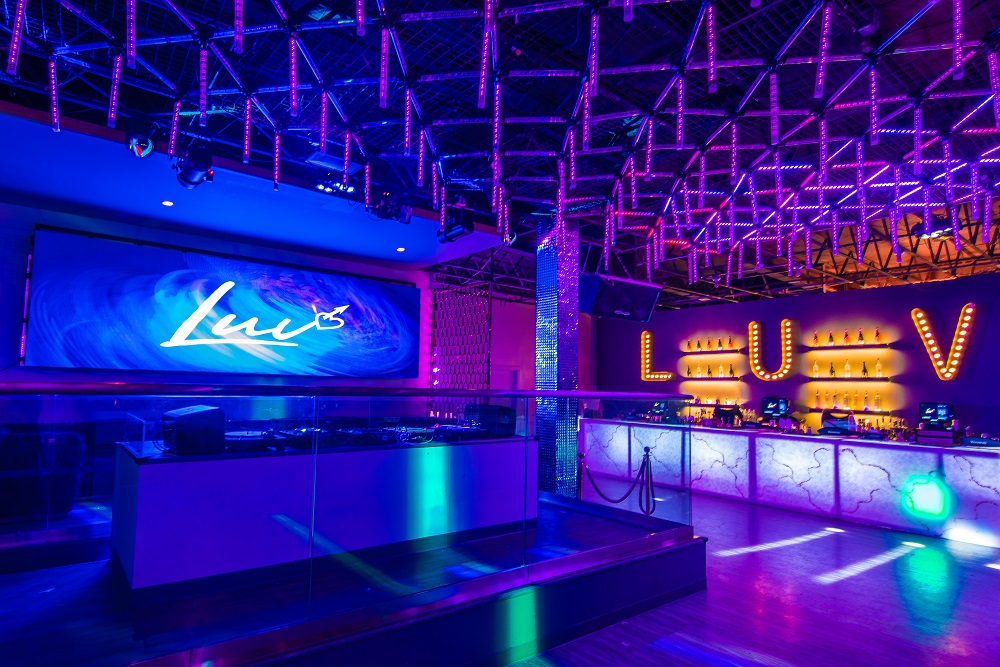 As the newest and the most anticipated nightclub in San Francisco, LUV has delivered a breakthrough experience to the San Francisco nightlife scene. Whether you are a dance junkie, an avid party goer, or an occasional clubber; they have everything you could want or need to fall in LUV with their venue! Those with more exclusive tastes are able to take in the sounds of the DJ from one of our VIP tables in 3 different sections – either in the elevated section overlooking the dance floor, across from the DJ, or in front of the massive 15 foot LED screen. Enjoy a VIP experience like nowhere else in the Bay Area. Browse upcoming events on the Discotech app!
Vanity
Vanity is the premier San Francisco nightlife destination with all of the elegance and class you could think of. Vanity offers deluxe amenities including VIP Bottle Service with VIP packages and varying themes to satisfy every indulgence. With 12,000 square feet of space, sensuous ladies on staff and all the VIP amenities you could dream of. RSVP for our guest list or reserve your table for upcoming events here!
https://www.discotech.me/wp-content/uploads/2018/05/sfskyline.jpg
682
1566
Discotech
https://www.discotech.me/wp-content/uploads/2020/03/Discotech-Black-Logo-300x138.png
Discotech
2019-05-10 11:00:30
2020-04-20 08:04:52
The Best Hip-Hop Clubs in San Francisco
Tired of hearing your girlfriends talk about the same old Vegas bachelorette party?  "Like OMG it was so fun!!! We hit up Michelle's promoter and he got us a free table to see Tiesto and all we had to do was pretend we were into some guys." Well, we have an alternative for you and it goes by the name of South Beach Miami where brides and her besties have recently been flocking to escape the chaos of Vegas but still party it up for one last hoorah. The home of J.Lo, Will Smith, and many celebrities alike, South Beach offers the best in nightlife, elaborate feasts, and of course, the infamous beaches.
Here's our guide to the ultimate Miami bachelorette weekend:
WHERE TO STAY?
Miami offers some of the best beach-front luxurious hotels with a chic and sexy ambiance.
Situated on oceanfront Collins Avenue in the heart of Millionaire's Row, Fontainebleau Miami Beach is one of the most historically and architecturally significant hotels on Miami Beach. A total of 1,504 guestrooms offer luxurious comfort and amenities, from deluxe guestrooms and three bedroom suites, to breathtaking penthouses. The 20-acres oceanfront hotel features an expansive poolscape, a pristine Atlantic Ocean beach, state-of-the-art conference and event facilities, one chic nightlife venue, including LIV®, the ultra-exclusive and high-energy nightclub, home to celebrities and VIPS, and the 40,000-square-foot Lapis spa.
At the direction of culinary celebrities from around the globe, Fontainebleau offers 12 fine dining and casual restaurants, bars and lounges. Signature dining experiences include Scarpetta by Scott Conant, the James Beard award recipient who has created a regional Italian menu combining the simplicity of Italy's cucina rustica with the refined flavors of fine cuisine; Hakkasan, globally recognized as the pioneering concept that single-handedly changed the face of Chinese cuisine; Michael Mina 74, created uniquely for Fontainebleau, delivers a sophisticated, playful and inventive small plates-driven menu; and StripSteak by Michael Mina, the newest partnership with award-winning chef and restauranteur Michael Mina, will be a steakhouse for today's adventurous diner.
With its soaring lobby and subtle seductions, Delano is the hotel that changed South Beach forever. Designed by Philippe Starck, Delano South Beach balances eclectic details with grand public spaces that are playful, elegant, quietly theatrical and filled with all-night energy – proof that the new rules of chic are simplicity with a crisp, clean and modern sense of ease. Delano's signature South Beach restaurant, Bianca, features an inventive Italian menu offering local, farm-to-table organic ingredients, while Umi Sushi and Sake Bar provides a casual dining experience, perfect for group dining. Sip one of the infamous cocktails and enjoy people-watching at the sophisticated Rose Bar. Delano Beach Club is the ultimate in poolside luxury, serving meals and cocktails from day into night. The subterranean lounge, FDR, serves as an ideal nightlife destination for the perfect night out in Miami's South Beach. Unwind and rejuvenate at agua Spa, Delano's rooftop wellness center where guests can enjoy traditional spa classics and luxurious pampering.
The brainchild of Sam Nazarian, SLS Hotels has created a new paradigm in the luxury hotel experience that speaks to a global, sophisticated audience. Taking service and luxury standards from traditional 5-star hotels and injecting elements of creativity and community, SLS delivers a guest experience that seamlessly delivers service, style and fun. SLS Hotels are currently open in Beverly Hills, South Beach, and Las Vegas and are coming soon to New York City, The Bahamas, Seattle, and Philadelphia. SLS also houses the acclaimed Hyde Beach Day and Night Club.
WHERE TO EAT AND PARTY?
The Bâoli Group features three high standard gastronomic venues, Bâoli Cannes, Bâoli Beach (France) and Bâoli Miami. Each transforms into a partying paradise where conviviality reigns in between the stars and the international jet­setters. Bâoli Cannes has been the flagship locale of the budding Bâoli brand since 1999 and became an instant hit amongst A­-list clientele and the movers­-and­-shakers of the French Riviera.
The opening of Bâoli in Miami rang in a new era of nightlife and dining on South Beach's shores: The venue imported France's trademark sophistication and seamlessly merged it with Miami's unique vibrancy and sass. Situated on one of the country's most iconic streets Collins Avenue; the restaurant, lounge and club tempts and teases at any hour. Dinner patrons will take their palates on a culinary expedition, exploring unique Mediterranean and Asian flavors and when night falls, the inviting restaurant revamps into a playground for the nocturnal.
The Bâoli brand has played host to some of the world's most famous DJ's in both Miami and Cannes including Bob Sinclair, David Guetta, Timatti, Mitch LJ, Tito, Michael Cleis, Nico De Andrea, AcE aka Trey Smith, A$AP Rocky, Infinity Inc, B Crazy, and AVICII among many others.
Make reservations here.
Seaspice is a seafood brasserie and lounge, where elegance lies in simplicity at its purest. It is a celebration of all the senses that marks the return to the core values of hospitality. The menu embraces the idea of comfort food while elevating it to new heights by introducing sophisticated techniques and heartfelt commitment to quality produce. The venue houses two wood burning ovens catering to our signature bread, handcrafted pizzettas, and our signature casseroles. The home of the seafood casserole, Seaspice continues to deliver the signature fare that has become part of the eatery's recognition.
Located on the banks of the Miami River, the restaurant captures the essence of a waterfront experience by enveloping an outdoor lounge with an indoor dining room, both engaging stunning views of Miami's downtown skyline. There are several dining accommodations offered. The interior main dining room and bar, an exterior courtyard, outdoor bar, a covered patio, and the new introduction to Seaspice, Modern Garden, featuring a Crudo bar and hot-stone concept. The specialty at Modern Garden, Crudos, offers a contemporary interpretation of exquisite raw fish and seafood flavored in olive oil, seasalt, citrus and fresh herbs. The hot stones feature a unique dining concept that involve searing prime cuts of meat and fresh seafood on a 850 degree volcanic stone slab served at your table. The space is outfitted with a distinctive architecturally designed sculpture which composes an art installation that is both visually engaging as well as space defining. An added bonus; 550 feet of private docking space.
Make reservations here.
Already an icon in LA and Vegas, Hyde's first Miami location keeps it celebrated style and energy going all day and all night in the heart of South Beach at The SLS Hotel. Hyde Beach offers artful mixology and cuisine from Jose Andrés — all in an over 8,000 square-foot indoor/outdoor space with a gorgeous pool and beach access.
HIGHLIGHTS
Hyde's First Day and Nightlife Oceanfront Location
More than 8,000 Square Feet of Pool, Beach and Indoor-Outdoor Space
Offers Artful Mixology and José Andrés Cuisine Inspired by the Local Community
You can make bottle service reservations here!
One of South Beach's most elite clubs, Nikki Beach is located directly on the beach. With torches, palm trees, sand under your feet and the sky as your roof, it doesn't get much better than this. Sunday afternoons are best, when everyone lazily wanders in to sip drinks after a day at the beach and the Sunday night singles scene really gets things sizzling. Sure it's the beach, but dress to impress when coming for a night out, or you might not get in. While the club has limited hours of operation, the restaurant is open daily for lunch and all day on Sunday. Nikki Beach not only features both an outdoor club and a more intimate indoor space, but also a restaurant and lounge area complete with beds and hammocks. The club offers an experience geared towards the daytime (lounging, drinking, eating, and dancing) and the night, with outdoor parties on the weekends and all night parties on Sunday nights at the indoor club.
You can make daybed or cabana reservations here!
https://www.discotech.me/wp-content/uploads/2015/07/miami-south-beach_596x334.jpg
334
596
Discotech
https://www.discotech.me/wp-content/uploads/2020/03/Discotech-Black-Logo-300x138.png
Discotech
2015-07-14 21:17:51
2015-07-14 22:10:43
Ultimate Miami Bachelorette Party