Chicago is an absolutely fantastic city that is very young and lively. It also provides some top tier nightlife. We took the liberty to pick our top 10 places for you to enjoy in the windy city.
In the 1980s, DJs Ron Hardy and Frankie Knuckles began spinning a new strain of disco music built from bass and drum machines in Chicago clubs, establishing the city as a hub of dance culture and the birthplace of house music. While you can't bust a move inside the most legendary Chicago nightclubs, a new crop of late-night destinations has stepped up to make sure the beat goes on. Whether it's the jam-packed season of summer music festivals or winter in Chicago, these dance clubs keep electronic acts and talented DJs onstage late into the night. If you're looking for spots with crowded dance floors, energetic soundtracks and attractive clientele, hop in the queue at some of the best nightclubs and dance clubs in Chicago.
Tao
Tao gives you dinner and a show with their exclusive restaraunt and nightclub
TAO Chicago is a dynamic two-level space, complete with four private dining rooms and a large bar. A grand staircase connects TAO's ground and lower level seating, creating the ultimate platform to see and be seen. The custom staircase includes round banquettes and Chinese daybed-influenced sofas. As in New York, a 20-foot tall Quan Yin statue stands atop a koi pond; using 3D projection mapping technology, Rockwell Group's LAB designed subtle animations bring this signature statue to life.
Prysm
You have to experience the energy of this place for yourself to truly understand it
Prysm is the nightclub made by and for Chicago located in Lincoln Park neighborhood. An unrivaled guest experience awaits partygoers with a perfect blend of concierge service and unforgettable energy. Designated music-driven theme nights and top talent ensure there's always a party. Late nights, great nights.
MASQ
Luxurious and sleek, MASQ is a perfect spot for bottle service
MASQ is a lounge located in The Hubbard Inn. It offers exquisite cocktails as well as bottle service to make for the perfect night out in the city.
Bounce Sporting Club
Mixing the best of both world's – bottle service and sports
Known as Chicago's Best Sports Bar, Bounce is the go to spot if you want to combine bottle service with the big game. They've got a sleek modern style that is a hybrid between a sports bar and lounge. With plently of TV's all over, their isn't a bad seat in the house.
Joy District
The goal, simply put, is for everyone to enjoy
Whether you're just in the neighborhood for a night on the town, or you're a River North regular, one of the premier dance clubs in Chicago sits perched on the second floor of Joy District's multi-level dining and drinking experience. With the hottest local DJs, themed parties, and bottle service, Joy District has become a dance party hotspot for local and visiting celebrities. Joy District's roster of special guest musical performances includes Demi Lovato, Ludacris, Travis Scott, Louis The Child, DJ Flosstradamus & more.
Concrete Cowboy
As they say "Giddy Up" and be ready for a wild ride
Concrete Cowboy is a high-energy restaurant and sports bar featuring a one of a kind food menu and over 40 big screen TV's.
Liqrbox
With their own "adult" juice box signatre drink, you'll be feeling just right for the night
LiqrBox is a vibrant bar and lounge owned by BDG Hospitality Group and 8 Hospitality. The three-level space has an electrifying ambience fueled by rhythmic lighting and custom street art. Known for its signature "adult" juice box, LiqrBox's light-hearted food and beverage program offers adult versions of childhood favorites, from elevated pizza-puffs to popcorn shrimp.
Underground
The place to be if you're nocturnal and aren't too fond of sunlight
Named one of the "sexiest places in the world" by Cosmopolitan Magazine, The Underground not only holds true to the name but also the reputation, as guests descend into the exclusive subterranean world of unforgettable fun. Conveniently located in downtown Chicago in the heart of River North neighborhood.
Tunnel
You never know what kind of atmopshere awaits on the other side of the tunnel
Nestled above the John Barleycorn in River North, Chicago's newest premier lounge, Tunnel, opened its doors in February 2015. As the name suggests, the nondescript entrance on Kinzie Street opens to a hidden covered staircase inspired by London's infamous urban tunnels. Blending the allure of a high-energy nightlife experience with VIP treatment, Tunnel aims to transform its venue on a nightly basis into a unique scene. As you climb each step, you begin to wonder what adventure awaits you upstairs.
Sound Bar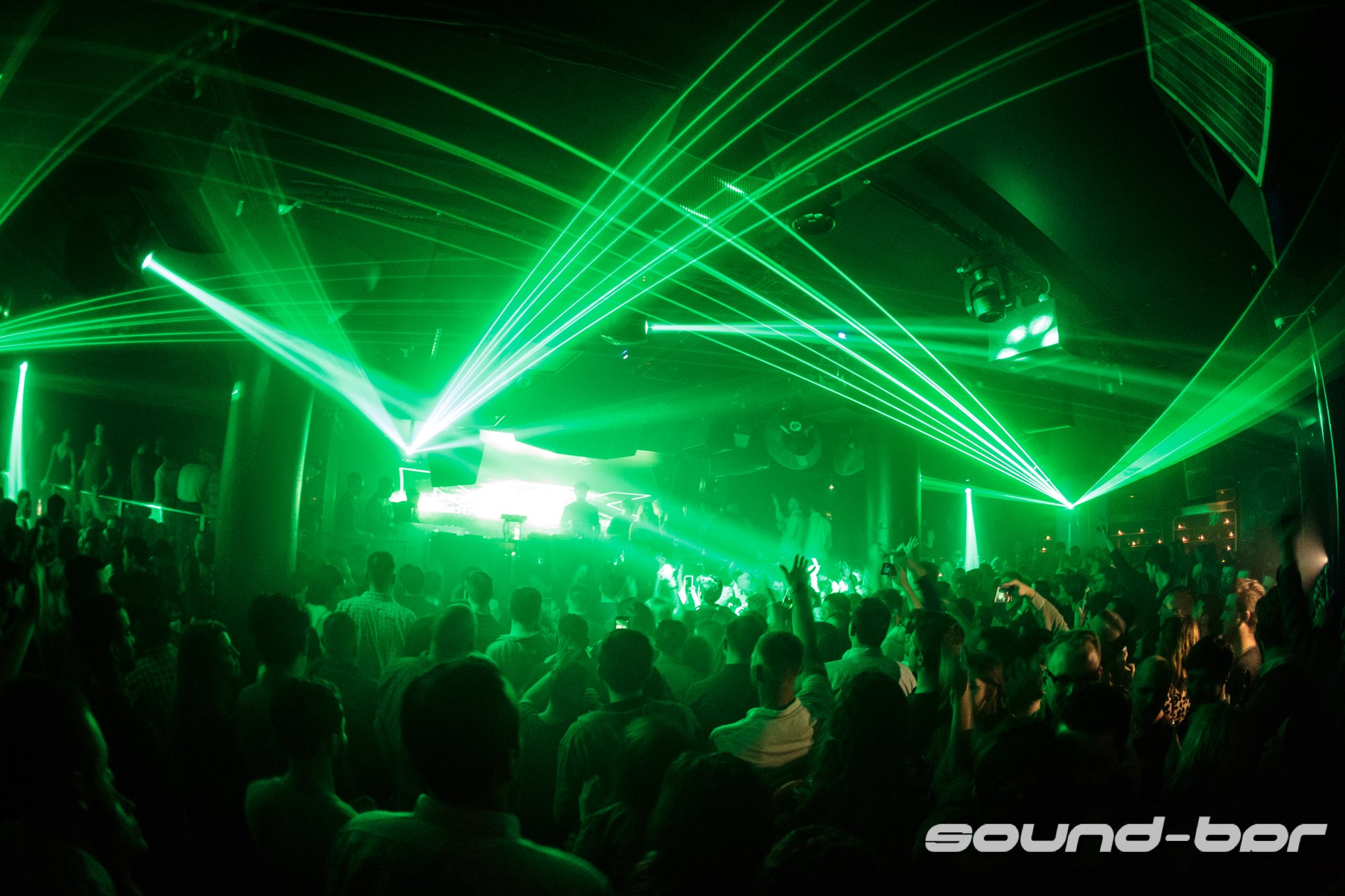 Making sure you get your daily dose of beats and lasers
Sound-bar revolutionizes Chicago nightlife by boasting style, luxury and state-of-the-art technology, showcasing 20,000 square feet of pure bliss. Sound-Bar's European minimalist decor is complete with flat screen monitors, laser lights, and floor to ceiling video projection walls that enable our clients to project audio-visual presentation throughout the club.
---
Chicago Nightclubs FAQ
What time do Chicago Nightclubs typically open?
The nightclubs open around 10 PM.
What time do Chicago Nightclubs typically close?
Most close at 4 AM.
What is the dress code like at Chicago Nightclubs?
Guys can wear nice jeans and a form fitting plain t-shirt or a nice button down shirt. Girls can wear jeans or a comfortable but stylish dress if they prefer. Of course guys and girls can never go wrong with dressing up even more – there is no such thing as overdressing when it comes to nightclubs.
How can I book bottle service for Chicago Nightclubs?
You can book table service using our free mobile app. Or, if you're on desktop you can use our webapp.
How much is bottle service at Chicago Nightclubs?
Table minimums can get pretty expensive, but every venue is different. The best way to find out is to use our app.
https://www.discotech.me/wp-content/uploads/2020/04/Chicago-Windy-City-View-scaled.jpg
1574
2560
Discotech
https://www.discotech.me/wp-content/uploads/2020/03/Discotech-Black-Logo-300x138.png
Discotech
2020-04-06 10:10:28
2020-05-11 12:21:01
Top 10 Best Nightclubs in Chicago in 2020