New York is the city that never sleeps and for good reason. They have incredible nightlife venues that really bring the action and are open all night. Before venturing off on your own in this steel jungle, be sure you know what the top spots are.
The most common answers one might hear to the question of the "best nightclub" are the longest-running and most world-renowned NYC clubs that feature the biggest DJ acts or the most expensive, exclusive venues where the rich, famous, and fashion models play. However, the best and hottest nightclub in NYC – in terms of how much fun YOU personally will have – will, of course, depend on your music preference and budget.
NYC is one of the nightlife capitals of the world and has numerous clubs featuring an eclectic array of music styles – electronic, hip-hop, Latin, deep house, dubstep, etc. Also, NYC has a nightlife partying scene for everyone, from forty-something Wall Street hedge-fund managers to wide-eyed college students at Columbia, NYU, and the prestigious fashion schools spread throughout Manhattan. Looking for a more underground scene? Brooklyn also features a number of warehouse-type clubs that feature DJs ranging from progressive to techno to deep house. In a New York minute, let's check out the Top 10 best nightclubs in New York City:
1. PHD Downtown
We suggest coming here for your PHD in partying
This downtown rooftop lounge is the ultimate penthouse, featuring timeless, luxurious finishes including Italian Portoro marble, Macassar ebony, nickel finish walls and amber Venini glass chandeliers. The exquisite panoramic Manhattan skyline view includes direct lines of sight to the Hudson River and Empire State Building. Seating is at custom-built Italian leather banquettes with marble tables and cozy outdoor seating niches on their outdoor terrace.
2. Avant Gardner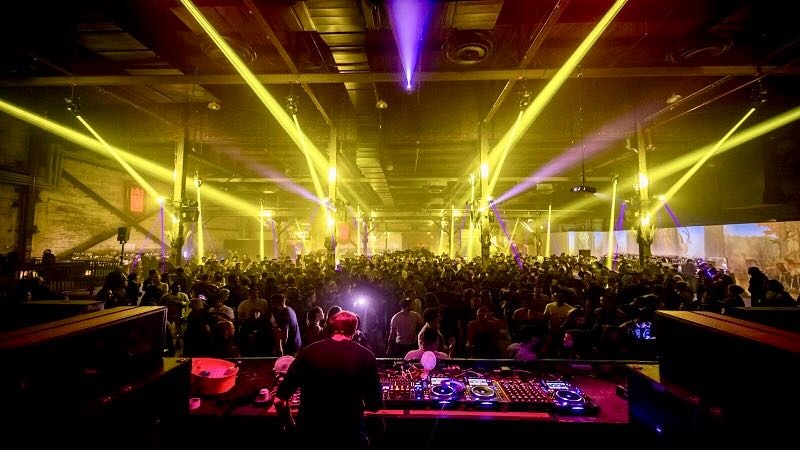 With 4 different event spaces, Avant Gardner provides an array of top talent and experiences
Avant Gardner is the epicenter of New York City entertainment. The 80,000 square foot venue complex occupies an entire city block of industrial Bushwick, containing a compound of stages and full-service event spaces. Their diverse calendar celebrates community and culture, offering an endless range of experiences highlighted by the space's unrivaled audio visual features. The vast complex includes The Brooklyn Mirage, The Great Hall, The King's Hall and The Lost Circus, all serving as individual locales, or combined to make Avant Gardner the second largest entertainment venue in Brooklyn.
3. Tao Downtown
With a Chinese culture you'll be transported halway across the globe
TAO Downtown offers a distinct sense of arrival and discovery and is the first TAO venue where guests descend into a multi-level space. The subterranean restaurant, located in the heart of Chelsea, is intended to look and feel as if it has been there for decades and only unearthed recently to reveal the artifacts within. Upon arrival, guests immediately encounter a long corridor with a dragon scale patterned screen and Chinese calligraphy murals mounted on weathered brick walls.
4. Up & Down
If you like to live the phrase "Going up on a Tuesday", you need to check this spot out
The (UP)stairs is a traditional nightclub atmosphere, the ground floor boasts classically influenced design concepts with crown moldings on the ceiling and walls, deep-blue banquettes and an elevated DJ booth which features a state of the art sound system that invites guests to dance the night away. The (DOWN)stairs on the lower level is curated to allow a more intimate and adventurous experience with a private karaoke room, a photo booth, and a "staircase to nowhere" leading to a secret room. One of the few spots open on Tuesday nights.
5. Avenue
A wild two story venue that has some regular celebrities sightings
Avenue is a 2-story lounge and event venue conveniently located at the intersection of Chelsea and the Meatpacking District in NYC. Known as the go-to meeting place for bold-faced names and scenesters alike, they have hosted private events for Marc Jacobs, Kim Kardashian, and Derek Jeter, to name just a few.
6. Jane Ballroom
Great Gatsby vibes resonate through this extravagant space
The Jane Ballroom, with its grand and eclectic décor, has hosted countless events and film shoots. The Ballroom is versatile and can accommodate smaller events on the Mezzanine level or larger functions in the entire space. The stunning Hudson River views from the Rooftop Bar are unparalleled, and the interior cocktail bar is ideal for a more intimate gathering.
7. Marquee
A tried and true elite nightclub that will always deliver a great time
A premiere entertainment haven, Marquee Nightclub in New York City attracts celebrities, world-class DJs and partygoers from all over the globe for some of the most extravagant events the industry has to offer. The original monumental 5,000 square foot destination offers an immersive party experience with extensive lighting, an elevated DJ booth, video, and laser systems to enhance the diverse musical talent headlining the venue.
8. Magic Hour Rooftop
It's all in the name, this place is truly special and never ceases to amaze
As the sun goes down, ride the elevator up to Magic Hour, New York City's largest indoor/outdoor all-season hotel rooftop bar and lounge, featuring an "urban amusement park" with an adult sensibility and epic Empire State Building skyline views. Winterized for the colder seasons, you never have an excuse not to come play.
9. Hotel Chantelle
Don't let the name fool you because this place is a hidden gem inisde this 3 story space
The nightclub in this faux hotel – it looks like a hotel from the outside but offers no rooms to rent – is called the Bonbonniere. Its opulent subterranean design is inspired by the namesake Fabergé egg; in fact, the large Egg centerpiece is actually the DJ booth! Artwork by Bradley Theodore adorns the walls inside this late night playground lined with leather banquettes and featuring color customizable LED lights.
10. 1 Oak
This place will never go out of style and has survived for over a decade in NYC
1 OAK, born of the namesake catch phrase, "1 Of A Kind," has endured continuous waves of competition and outlasted the rise and fall of countless nightlife trends. Located on 17th street in the heart of Chelsea, it remains at the center of New York City nightlife culture. Boasting a rotation of world-renowned DJs and surprise performances, a captivating interior and a stellar standard of service, 1 OAK provides a nightlife sensibility that caters to even the worldliest of partygoers.
---
---
To keep up with the constantly changing Big Apple party scene as well as find the perfect fit for you, you can use the Discotech app – to search nightclub events by the specific dates you'll be in town, and then buy tickets, sign up for guestlists, or even reserve tables if you're feeling super-fancy. The app event info refreshes daily, pulling from various NYC entertainment online resources including the official websites of the clubs themselves, so it's always current, accurate, and in the know. If you're not sure where to start, check out our guide to NYC nightlife here. Note that most clubs that are open on weekends also have one signature weeknight for which they are known to draw bigger crowds. After perusing the app to get ideas, don't hesitate to ask a local friend – or reach out to our helpline – for further guidance.
---
NYC Nightclubs FAQ
What time do NYC Nightclubs typically open?
The nightclubs open around 10 or 11 PM.
What time do NYC Nightclubs typically close?
Most close at 4 AM.
What is the dress code like at NYC Nightclubs?
Guys can wear nice jeans and a form fitting plain t-shirt or a nice button down shirt. Girls can wear jeans or a comfortable but stylish dress if they prefer. Of course guys and girls can never go wrong with dressing up even more – there is no such thing as overdressing when it comes to nightclubs.
How can I book bottle service for NYC Nightclubs?
You can book table service using our free mobile app. Or, if you're on desktop you can use our webapp.
How much is bottle service at NYC Nightclubs?
Table minimums can get pretty expensive, but every venue is different. The best way to find out is to use our app.
What clubs in NYC do celebrities go to?
You'll find celebrities at 1 OAK, Soho House, Le Bain, TAO Downtown, The Skylark, Fleur Room, 40/40, and Please don't tell.
What part of Manhattan has the best nightlife?
East Village, Lower East Side, Chelsea, and Meatpacking district tend to have the best nightlife options.
What are the best EDM clubs in New York?
The best EDM nightclubs in Manhattan are probably Marquee and Lavo. If you include Brooklyn – Avant Gardner, Elsewhere, Quantum, Schimanski.
What are the best Hip Hop clubs in New York?
The best hip hop clubs in New York are 1 OAK, Up & Down, Avenue, Jane Ballroom, Goldbar, and Tao Downtown.
What are the hottest clubs in New York?
It depends what you're looking for. The more exclusive venues in New York are Paul's Cocktail Lounge, Le Bain, The Box, 1 Oak, Fleur Room, Paradise Club.
What are the best boozy brunches in New York?
The best boozy brunches are Bagatelle Brunch, Beauty & Essex Brunch, and Lavo Brunch.
https://www.discotech.me/wp-content/uploads/2020/03/NYC.jpg
538
900
Discotech
https://www.discotech.me/wp-content/uploads/2020/03/Discotech-Black-Logo-300x138.png
Discotech
2020-04-06 07:38:57
2021-01-13 14:45:48
Top 10 Best Nightclubs in New York City in 2021