The Ultra Music Festival or "Ultra" is Miami's outdoor electronic dance music (EDM) festival that takes place every March.  As EDM has surged in popularity worldwide over the past decade and a half, this ubiquitous festival and global multicultural gathering has grown from a one-day concert for the first eight years of its existence into a two-day affair, and then in 2017 became a three-day morning-to-midnight event. The 2019 version of UMF is to millennials what Woodstock was to Baby Boomers: a music-infused touchstone that defines an entire generation, as well as one of the premier party destinations for Spring Break college kids and wealthy foreign travelers alike (attendance for this year's event is expected to top 200,000+ revelers).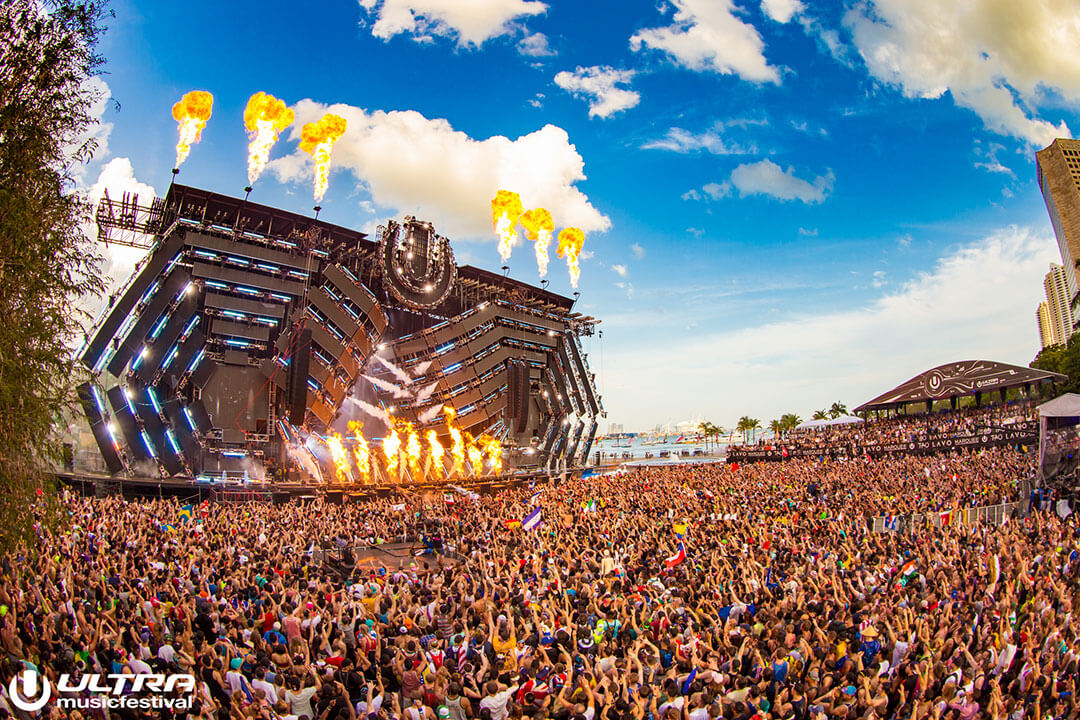 Notably, this year's UMF – scheduled for 29-31 March – has moved location from Bayfront Park adjacent to downtown Miami, where it was held since 2012, across the Biscayne Bay to Virginia Key (cue Brickell's exasperated local residents nodding and clapping furiously). Above and beyond the handful of official events organized by the UMF planners and the WMC planners, the rest of the city's local hotspots and businesses join in on the party, with performances by over 1,000 artists in over 200 events held in various venues from nightclubs to bars to restaurants to hotel pools to public areas such as Lincoln Road and the Miami beaches.
Discotech is your one-stop shop for discovering events and getting VIP access not only to the Ultra Music Festival itself but to all of the hottest 2019 Miami Music Week side-piece parties happening in and around the Magic City.  In homage to Australian DJ Fisher – one of 2018's breakout music artists and a favorite among the Discotech team – here are the biggest EDM sea creatures swimming in Miami's waters this week that you humble fishermen (or fisherwomen) should set your nets and cages to catch. And, if you're willing to dive down into deeper waters, there are also plenty of great underground acts playing all around town at smaller venues, with reasonably priced tickets still available.
Tuesday, March 26th
BIG KAHUNA:
When Miami Music Week swarms into town, even the city's renowned hip-hop community steps back and defers to the global electronic dance music scene. Such is the case with Mokai, one of Miami's flagship hip-hop nightclubs that recently rose to notoriety via some memorable rap artist performances and a handful crazy marketing stunts, including a wayward VIP bottle presentation involving a live horse. Mokai opens it doors for the early arrivers to MMW 2019 to get their quick-and-early EDM fix through a special headline performance by up-and-coming Dutch artists Firebeatz.
Time: 11:00 PM – 5:00 AM
Venue: Mokai (Address: 235 23rd St, Miami, FL 33139)
Lineup: Firebeatz | Artists TBD
Finding Nemo:
—————————————————————-
Wednesday, March 27th
BIG KAHUNA:
Hyde Beach was the scene of a memorable Ultra afterparty in 2017 featuring Dmitri Vegas & Like Mike rocking the house to an epic confetti shower paying homage to Miami's infamous spring thunderstorms. So, it's no surprise that the now world-famous duo have been invited back by the SLS brass to kick off their five days of much-hyped MMW 2019 event programming featuring one heavy-hitting electronic act after another.
Time: 12:00 PM – 10:00 PM
Venue: Hyde Beach @ the SLS Hotel (Address: 1701 Collins Ave, Miami Beach, FL 33139)
Lineup: Dmitri Vegas & Like Mike | Artists TBD
One of EDM's hottest names and most colorful characters will be 'Losing It' midweek at South Beach's legendary Delano Beach Club. Grammy-nominated tech-house phenom Fisher brings his Catch & Release pool party to South Florida in his only live performance of MMW 2019. The captain of the ship will be joined by a crew of capable deck hands, including Mason Maynard, Melé, and more to be announced. Hook. Line. Sinker.
Time: 12:00 PM – 6:00 PM
Venue: Delano Beach Club (Address: 1685 Collins Ave, Miami Beach, FL 33139)
Lineup: Fisher | Mason Maynard | Melé | Artists TBD
Finding Nemo:
—————————————————————-
Thursday, March 28th
BIG KAHUNA:
As Miami Music Week draws near, the waters of the pristine coastal city become muddied by myriads of events and shows, but each year one party stands out as the must-attend event of the week: All Gone Pete Tong, which returns to its home at The Surfcomber. Over the past decade, Legendary BBC Radio 1 Host and master curator Pete Tong has hosted his can't miss event, presenting the biggest stars and hottest emerging talent, with established name artists playing alongside electronica's brightest up-and-comers. Backstage serves as the ultimate industry hangout spot, where label heads, managers, DJs, promoters and the who's who of dance music all congregate for an impromptu summit under the sunny Miami skies.
Time: 12:00 PM – 10:00PM
Venue: Surfcomber Hotel (Address: 1717 Collins Ave, Miami Beach, FL 33139)
Lineup: Pete Tong | Guy Gerber | Bedouin | Damian Lazarus | DJ Tennis | Chris Liebing | Axel Bowman | Krystal Klear | Melé | Themba
It has been an amazing ride for the Grammy Nominated DJ/Producer Dirty South aka Dragan Roganovic. Born in Belgrade, Serbia, he relocated to Melbourne, Australia when he was 13. When he started his musical journey, he couldn't even afford turntables, but he managed to improvise with used NEC Hi-Fi and tape decks. By steady hustling, he was able to graduate to a computer, audio software, and keyboards, and his first official production was released in 2004. Fifteen years later, he is a staple at electronic music festivals worldwide, and in the biggest festival of the year he returns to his simpler roots with an open-to-close set at Treehouse, one of South Florida's best underground electronic venues.
Time: 11:00 PM – 6:00 AM
Venue: Treehouse (Address: 323 23rd St, Miami, FL 33139)
Finding Nemo:
—————————————————————-
Friday, March 29th
BIG KAHUNA:
Set Times / Lineup: UMF Website
The Dirtybird Players are a fixture in the Miami electronic scene year-round, but Miami Music Week is always their chance to showcase their growth and flex their muscle to international visitors and fans. This year they have chosen the iconic Space Nightclub as their venue; with three large rooms featuring 20+ artists, this event promises to be even bigger and better than ever before, and packing enough variety to keep music heads and their eardrums fixated late into the night and into the early morning… (and maybe even 'til the afternoon???)
Times: 11:00 PM – 11:00AM
Venue: Space (Address: 34 NE 11th St, Miami, FL 33132)
Lineup: Ardalan | Bruno Furlan | Christian Martin | Claude VonStroke | Ardalan | Billy Kenny | DJ Glen | Doorly | Eddy M | Eli Brown | Joeski | Justin Martin | Mason Maynard| Matthias Tanzmann | OMNOM | Sacha Robotti| Shiba San | Steve Darko | Vnessa | Volkodor | Walker & Royce | Will Clarke
Finding Nemo:
—————————————————————-
Saturday, March 30th
BIG KAHUNA:
Set Times / Lineup: UMF Website
Blurring the line between dreamscape and reality, The Masquerade events have seen Claptone take his inimitable soiree to all four corners of the world, selling out world-class venues along the way. Shrouded in intrigue, the masked figure behind the decks keeps his focus firmly on the music. As he invites the wildest partygoers to unlock their minds and experience a world like no other, crazy ideas will materialize out of thin air and grand dreams will come to life. One thing is for sure – Miami will never be the same after Claptone's Masquerade has stopped by.
To ensure that this is an event not to be missed, the masked crusader has assembled a suitably heavyweight line-up to keep the magic flowing from start to finish. Up first is New York's finest, Dennis Ferrer, who will be bringing his unique blend of house and techno to proceedings; UK house aficionado Weiss will be delivering tunes to match the sun-kissed vibe. One of the scene's hottest names, Franky Rizardo, will no doubt have a few tricks up his sleeve, while Berlin's Mat.Joe complete the line up with their inimitable brand of 'crispy urban house'.

Time: 12:00 PM – 11:00 PM
Venue: Kimpton EPIC Hotel (Address: 270 Biscayne Blvd Way, Miami, FL 33131)
Lineup: Claptone | Dennis Ferrer | Weiss | Franky Rizardo | Mat.Joe | Dan Black
This event showcases the prodigious talents of Guy Gerber, arguably the most acclaimed Israeli EDM artist today. Gerber rocked the house with an earsplitting set at WALL during last year's Miami Music Week, and we're hoping the sequel will be just as riveting.
Time: 11:30 PM – 5:00 AM
Venue: WALL at the W (Address: 2201 Collins Avenue, Miami Beach, FL 33139)
Lineup: Guy Gerber | Birds of Mind
Finding Nemo:
—————————————————————-
Sunday, March 31st
BIG KAHUNA:
Set Times / Lineup: UMF Website
With two days of Ultra in the books, the Sunday hotel pool parties will be packed as revelers running on fumes seek to soak in some sun and recharge their batteries from the night before… or just go straight from last night's fiesta to grab some gasoline in the form of Cuban coffee and then wheel on over to the next venue. A ten-hour set at poolside at the Delano by Above & Beyond's Anjunabeats label squad – a rainbow coalition of top-shelf progressive house talent including Andrew Bayer, Grum, and ilan Bluestone, will be just what the doctor ordered to wind the party down… or perhaps to turn the party up, depending on your MMW sleep schedule.
Time: 12:00 PM – 10:00 PM
Venue: Delano Beach Club (Address: 1685 Collins Avenue, Miami Beach, FL 33139)
Lineup: Andrew Bayer | Gabriel & Dresden | Grum | ilan Bluestone | Jason Ross | Sunny Lax | Oliver Smith
Time: 12:00 PM – 11:00 PM
Venue: Hyde Beach (Address: 1701 Collins Avenue, Miami Beach, FL 33139)
Finding Nemo:
—————————————————————-
Apart from the above big fish, you'll find over 50+ more world-class venues and colorfully electric special events for Miami Music Week swimming around in our Discotech mobile app or desktop webapp.  We look forward to helping you reel in an epic MMW experience and become a part of partying history!
https://www.discotech.me/wp-content/uploads/2019/03/miami-music-week-2018-flyer.jpg
685
1301
alviedisco
/wp-content/uploads/2020/03/Discotech-Black-Logo-300x138.png
alviedisco
2019-03-06 16:13:01
2019-03-06 18:18:43
Miami Music Week 2019 Party Guide