Along with New York City, Los Angeles, and Las Vegas, Miami sits on the top tier of nightlife cities in the U.S., if not the entire world. For these top-tier cities, a diverse array of out-of-towners visit specifically to partake in late nights out, and so the nightlife scene is crazy on the weekends and does not let up much during the week. Since there are so many options, out-of-towners often ask where are the best nightclubs in Miami.
That being said, as you would expect, your pool of weekday options is smaller, the hotspots are less obvious and always changing, and you're more apt to be surrounded by locals (who are less likely to be interested in meeting and mingling with tourists). In addition, Miami's glitterati and socialite circles prefer to go out Mon/Tue/Wed to enjoy a higher degree of privacy/exclusivity, as do the local working-class twentysomethings who spend their weekends toiling within Miami's massive service & tourism industries.
Miami's beautiful sunny weather will keep the good vibes going all day long, but the nights are where this city really comes to life. Some of the best and craziest clubs in the world are located here, and they keep the party going until sun comes up. Whichever club you decide to check out in Miami, you won't be disappointed, but let us direct you to our top 10 best nightclubs in Miami.
LIV
World renowned and for good reason, make sure to live a little by getting bottle service here
LIV at Fontainebleau, consistently ranked one of the top nightlife venues in the world, reopened after a $10 million renovation to kick off the nightclub's tenth season. This place has redefined nightlife on miami beach and pioneered the nightlife experience. With over 18,000 square feet of striking architecture, soaring ceilings, vibrant lighting and its iconic dome. LIV will continue to set the stage for the ultimate nightlife experience.
E11even
This is where the party meets the after party, there is no reason to leave this place – it's open 24/7
Luxurious, extravagant and entirely unforgettable, E11EVEN MIAMI is an entertainment venue like no other. Located in the heart of downtown Miami, this 24-hour ultraclub has it all: a vibrant nightclub scene with a cast of top performers and DJs, outstanding food and drinks, private VIP rooms and five-star service staff. E11EVEN's award-winning experience makes it among the best clubs in Miami – and the nation. There truly is nothing else like it!
STORY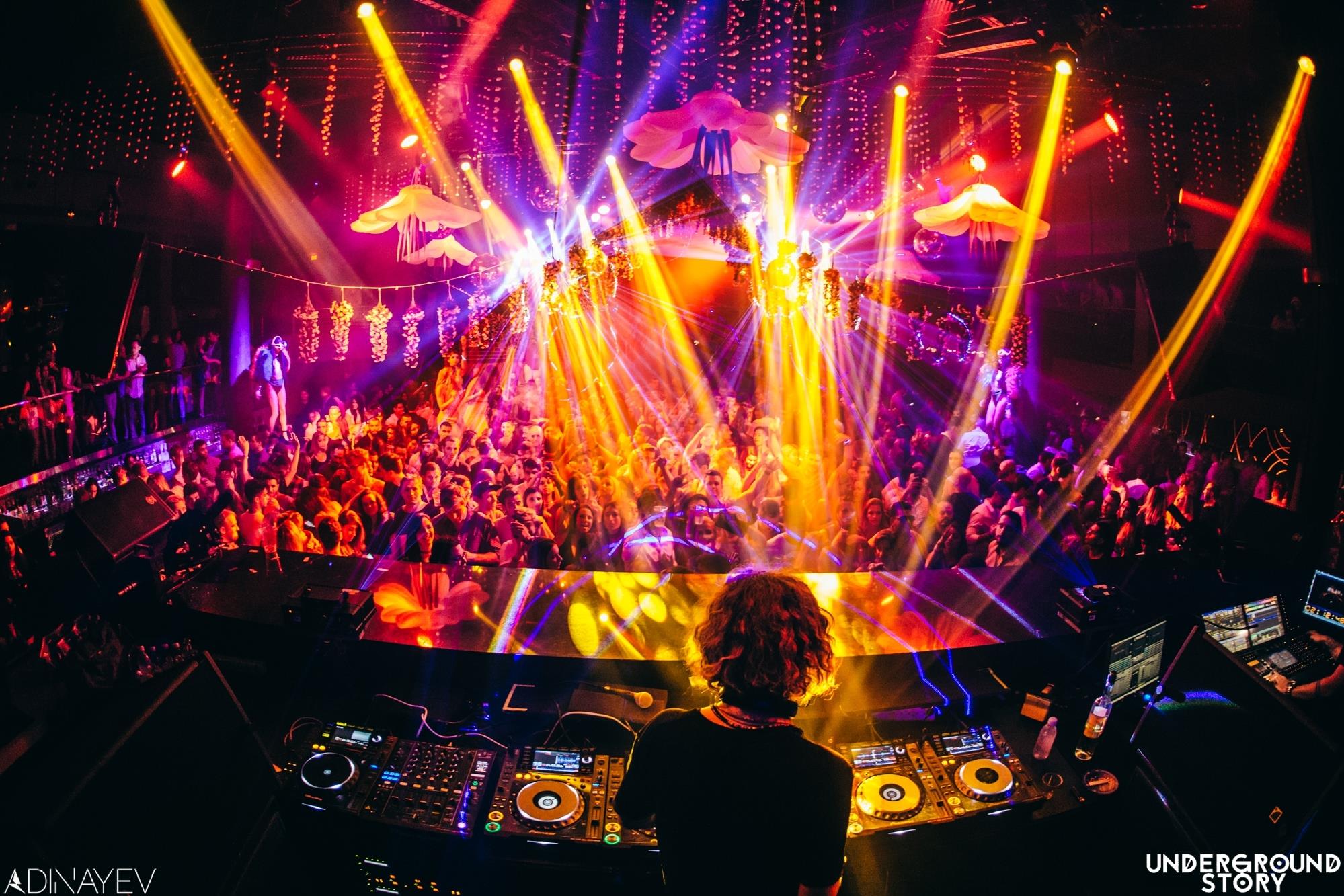 Never been to the circus before? Don't worry, STORY puts on a "one of a kind" show
Since opening in 2012, STORY has become an unparalleled, high-energy nightlife experience located in the heart of Miami Beach.Their in-house production & design team transforms the venue on a nightly basis into an extravagant circus-style setting where nothing is shocking.
Space
You don't actually have to be an astronaut to go to Space, just book a table and you've got your ticket
Club Space, today the name is synonymous with dance music in the United States. The go-to venue for any nightlife enthusiast in the nation, the club is proudly marching on into it's 17th year of operation with new owners at the helm. With our unrestricted operating hours and stellar lineup of resident and guest DJs, they provide nothing but the best in electronic music, local & international. Their party does not stop at 5 AM, and neither should you…
Wall
Don't let the size of this place fool you cause it packs quite the punch when it comes to a good time
WALL is a smaller and intimate venue, a change for Miami Beach that is located at W Hotel in South Beach. With its rich. dark and elegant interior is the embodiment of sophistication, luxury and style with a dedication to service that is unparalleled in Miami.
Rockwell
A tribute to some of the famous past South Beach classics
Rockwell brings the perfect storm of LA cool, New York music and Miami energy to the space with this venture. Located on Washington Avenue, the concept pays homage to miami's rich history in nightlife, a rebirth of the space that formerly held the exclusive south beach hotspots including Les Bains and Chaos.
Mynt
A high end and luxurious club that will have you dancing to house music all night long
The infamous South Beach venue, Mynt Lounge has been known to draw its share of celebrities. The modern and luxury style decor along with its red velvet ropes grants the purely fabulous the possibility of entry. House music is the sound of choice along with today's top hits (open format) gets the crowd dancing under high tech LED fixtures, as bright strobe lights hanging from the ceiling provide a flickering glimpse of the Miami party scene. Mynt sometimes holds special events over the weekend that include live entertainment and guest star DJs.
Blue Martini (Brickell)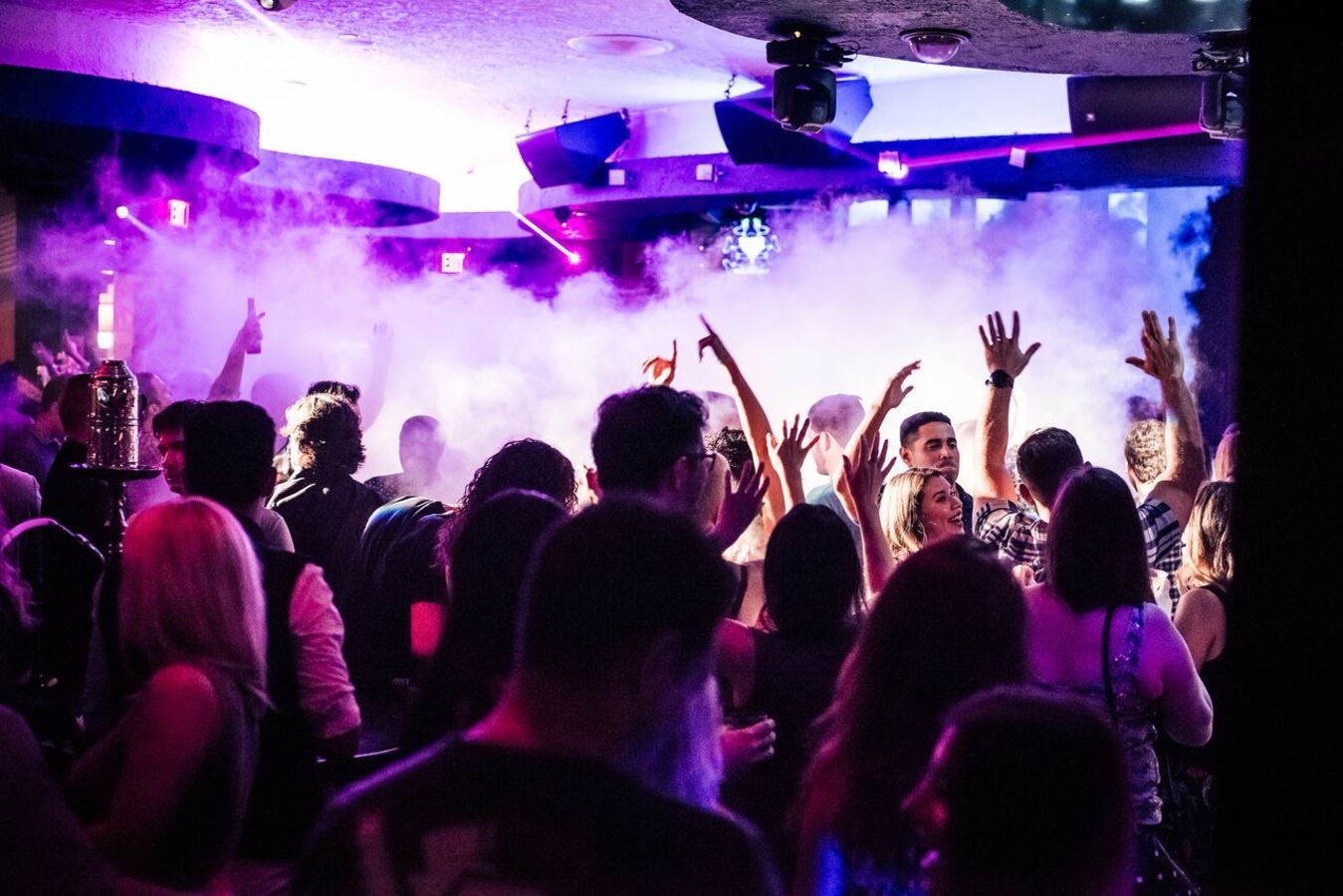 Start with happy hour and then transition to a full blown dance party into the night
Whether you come alone or with friends, Blue Martini's famous Happy Hour gives everyone the chance to socialize and mingle amongst the most beautiful people. Grab one of their deliciously fresh Martinis and hang out on the patio or dance the night away to the most popular live music on our center stage. Whatever mood you're feeling, Blue Martini has the perfect atmosphere.
---
There are tons of fun places to party when visiting Miami! Luckily, we've pulled together the best clubs to party in Miami. If you're looking for bars or lounges, we strongly urge you to first check out the top clubs in Miami, as Miami is home to some of the best and most fun clubs in the world.
There are numerous nightlife options featuring a wide array of music styles – electronic, hip-hop, Brazilian/Latin – at Miami's numerous traditional dance nightclubs. Note that most clubs that are open on weekends also have one signature weeknight for which they are known to draw bigger crowds, e.g. Mokai or Rockwell on Mondays, Do Not Sit on Wednesdays, and Ora on Thursdays.
Apart from traditional dance clubs, the most crowded mid-week spots to party will be where the locals hang out: happy hour bars in Brickell and Coconut Grove, restaurants and hipster/artist lounges in up-and-coming Wynwood, and of course Miami's famous (infamous?) strip clubs: Tootsies, King of Diamonds, G5ive, and E11even, the latter of which is actually a hybrid strip/dance club concept worth checking out on any day of the week. And of course, during high tourist season (March through June), even the South Beach tourist trap bars will be as packed with college kids and European and South American visitors during the week as they are on the weekends.
---
Miami Nightclubs FAQ
What are the best clubs in South Beach?
Best clubs in South Beach Miami are Hyde Beach / Hyde Lounge, Treehouse, Basement, Rockwell, Cameo, Wall Lounge, and Mokai.
What are the best EDM clubs in Miami?
The best EDM clubs in Miami are Liv, Story, Space, Trade, e11even, Wall Lounge, and Basement.
What are the best hip hop clubs in Miami?
The best hip hop clubs in Miami are Rockwell, Cameo, Mokai, Mr Jones, and Liv/Story (on certain nights – check the upcoming events)
What time do Miami Nightclubs typically open?
The nightclubs open around 11 PM.
What time do Miami Nightclubs typically close?
Most close at 5 AM.
What is the dress code like at Miami Nightclubs?
Guys can wear nice jeans and a form fitting plain t-shirt or a nice button down shirt. Girls can wear jeans or a comfortable but stylish dress if they prefer. Of course guys and girls can never go wrong with dressing up even more – there is no such thing as overdressing when it comes to nightclubs.
What do girls wear to clubs in Miami?
The majority of SoBe club girls subscribes to the same concept-short, skintight, lots of cleavage, and paired with sky-high platforms or stilettos. Animal prints and rhinestone sightings are common here in South Beach. Girls going out in Miami wear dresses and heels, no jeans, no sandals, no flat shoes. The smaller the dress, the higher the heels, the better and sexier you will look.
How can I book bottle service for Miami Nightclubs?
You can book table service using our free mobile app. Or, if you're on desktop you can use our webapp.
How much is bottle service at Miami Nightclubs?
Table minimums can get pretty expensive, but every venue is different. The best way to find out is to use our app.
How much is clubbing in Miami?
On an average night the cover charge at most clubs will be $20-40. On holiday weekends or events with big talent expect to pay more. You can usually buy tickets in advance to nights with big talent, which will usually be cheaper than paying general admission at the door.
What clubs to celebrities go to in Miami?
The best celebrity hotspots in Miami are Rockwell, e11even, King of Diamonds, and Liv.
Can you get into clubs at 18 in Miami?
Most nightclubs in South Florida are open only to those of legal drinking age. However, if you are over 18 but not yet 21, there are still some events that you can attend in Miami. Check the Discotech App for upcoming 18+ events at Club Space and 1-800-LUCKY. There are also festivals such as Ultra Miami that are 18+.
Are there after hours spots in Miami?
Miami clubs typically don't close until 5 AM. If you're still looking to party after that, we'd recommend Club Space (Techno til 9 AM), e11even (half strip club half nightclub, open 24/7), and King of Diamonds (full strip club, open til 6 AM)
How do I get into a club in Miami?
If you're a girl you may be able to get in for free with a promoter, or you can get there early and hope the bouncer likes your "look". For some clubs like Liv and Story you can buy tickets in advance. You can also show up and pay general admission. And of course there's always the bottle service option.
GOING TO A NIGHTCLUB?
Download the #1 Nightlife App for FREE.
Get instant access to the best nightclubs and pool parties.
https://www.discotech.me/wp-content/uploads/2019/12/miami.jpg
906
1610
Discotech
https://www.discotech.me/wp-content/uploads/2020/03/Discotech-Black-Logo-300x138.png
Discotech
2020-03-30 04:11:46
2020-05-11 11:58:01
Top 10 Best Nightclubs in Miami in 2020